App for disabled
MUSICAL EYE is a revolutionary App for iPhone and iPad where, with the wink of an eye, you can play the piano.
MUSICAL EYE is designed for people with impairments that prevent them from using their hands and arms – people with Spinal Chord Injuries, ALS, Cerebral Palsy, Multiple Sclerosis - or who lack the strength to grasp or lift objects.
This touchless app is based on eye-tracking technology, allowing the playing of a piano without additional custom-hardware requirements.
THE STORY OF MUSICAL EYE
After having had wrist surgery and meeting others in the hospital who had mobility impairments, I started thinking of possible ways to aid the disabled. Music came to mind as both a mentally and emotionally healing past time, which in conjunction with my technical skills, gave way to "Musical Eye." An app that empowers those with orthopedic or neuromuscular impairments to play the piano, just with the blink of an eye!
WHAT IS MUSICAL EYE?
MUSICAL EYE is a completely accessible touchless app for the iPhone and iPad, based on eye-tracking technology. The app is designed such that helmets or goggles aren't needed – the only powerful controller is the human eye.
HANDS-FREE TECNOLOGY
MUSICAL EYE tracks your eyes  utilizing a front-facing camera.  With sufficient lighting, you can tap on piano keys with a wink. A gentle head tilt or slight turning of the face will allow the user to switch between keys.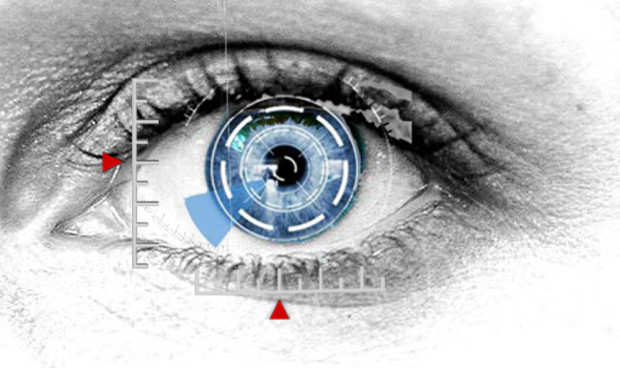 HOW DOES MUSICAL EYE WORK?
MUSICAL EYE works by tracking eye movements which are translated into a pointer that appears on the screen of the iPhone or iPad. MUSICAL EYE recognizes eye movement and blinks to trigger the selected piano key. The app's wink-detection is translated into a "tap" on the screen, enabling the piano to be played.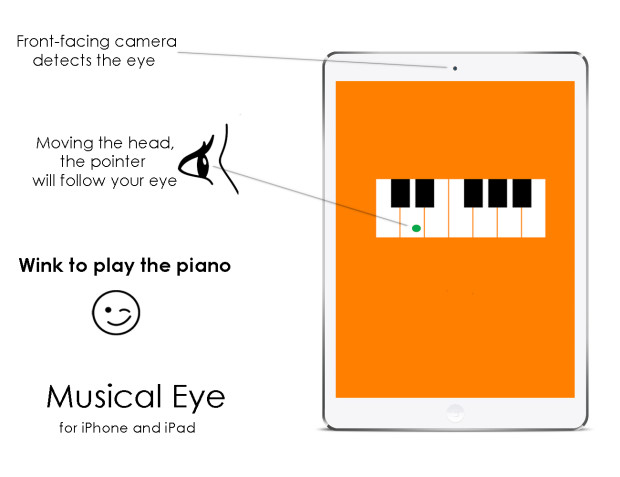 MUSICAL EYE è un'App rivoluzionaria, dove, con un "battito di ciglia" puoi suonare  il piano.
MUSICAL EYE è progettata per le persone che hanno difficoltà oppure non possono usare le mani e le braccia.
Questa App TOUCHLESS è basata sulla tecnologia Eye-Tracking technology, e permette di suonare il piano senza ncessita di usare dispositivi hardware aggiuntivi (come ad esempio caschi o occhiali ad hoc).
LA STORIA DI MUSICAL EYE
Due anni fa ho avuto una frattura con conseguente intervento chirurgico.Un evento che mi ha portato a "fermarmi".
A volte anche piccoli traumi, portano a "fermarci", a guardare le cose da punti di vista differenti.
Ho iniziato a pensare che se la mia immobilizzazione avesse coinvolto entrambi le braccia avrei avuto maggiori problemi a fare tutta una serie di cose.
Da qui mi è venuta l'idea di iniziare a pensare di creare App che potessero essere utilizzate da chi ha problemi di disabilità motorie alle braccia, un modo alternativo, dove le App potessero essere comandate con gli occhi senza l'ausilio di dispositivi esterni, "semplicemente" usando un iPhone o un iPad.
Pensando alla musica, alla sua bellezza, ho pensato al pianoforte,al piacere di suonarlo e allora  usando gli occhi.
E' nata così' la mia sfida, creare un App senza touch, un'App Touchless,dove tramite un battito di ciglia, potesse essere possibile  suonare il piano!
Questa è la storia di Musical Eye.
COME FUNZIONA MUSICAL EYE?
MUSICAL EYE traccia il movimento degli occhi.
Il movimento degli occhi viene poi "tradotto" in un puntatore che appare sullo schermo dell'iPhone o dell'iPad.
MUSICAL EYE riconosce il movimento degli occhi e intercetta la loro posizione trasferendola sullo schermo del dispositivo.
L'App rileva il "battito di ciglia" che viene tradotta in un "tap" sullo schermo. In questo modo viene suonato il piano.

La seguente immagine mostra in sintesi il funzionamento di Musical Eye: